What app can I use to download videos on WhatsApp?
Those of you who have the same doubts, congratulations on finding us as we will introduce you to an ultimate WhatsApp video downloader app that is completely free, easy to operate, and trusted by hundreds of millions of users. So make sure to stick with us to the end.
Snaptube: The Best WhatsApp Video Download App
I'm sure some of you have heard of or even used Snaptube. If you haven't heard of it, it's not too late to know because it will radically simplify how you watch and download videos.
In terms of downloading videos from WhatsApp, you can easily save videos of your WhatsApp contacts, and you can also take advantage of Snaptube to download WhatsApp videos online from other video-sharing platforms.
If you are looking for a hassle-free WhatsApp video downloader app, then simply give Snaptube a try.
Download
Basic Information of WhatsApp Video Downloader App
Cost: Free app
OS platform: Android, currently not available for iOS
App size: 25.8 MB
App Ratings: 4.5/5 based on 8818 reviews on Aptoide; 4.3/5 based on 2696 reviews on Uptodown.
How to Get: Download the Snaptube APK
Features, Pros & Cons
With Snaptube, you can find videos from multiple platforms in one place and that too in high quality. WhatsApp, as one of the most popular social apps, is certainly included. Now let's have a look at why Snaptube is the best WhatsApp video downloader app.
Main Features:
You can watch and download unlimited videos from 100+ social platforms.
Explore trending videos and music online and share them on WhatsApp.
Save new status videos and images from WhatsApp friends.
Bulk downloading for multitasking, no download limitations.
It comes with other advanced features like a fast-loading player, picture-in-picture mode, multiple resolution download option, and more.
Pros:
Extremely easy to use, Snaptube is a freely available Android app.
You don't need an account for using Snaptube.
You can simply look for any kind of WhatsApp video and download it on your phone with a single tap.
You won't be bothered by endless ads.
The downloaded videos can be shared to WhatsApp with one click.
The app is extremely secure and won't cause any harm to your device.
Very fast download speed and built-in file management.
Cons:
Sometimes, you need to refresh the status video before they get updated on Snaptube.
How to Download Videos for WhatsApp using Snaptube
Snaptube features a user-friendly and sleek interface that will make it easier for you to download the videos of your choice. After downloading any content from this WhatsApp video app, you can simply find it on your device storage. Later, you can just forward it to your friends and family on WhatsApp.
Step 1: Get the Snaptube app
Click the Download button to download the latest APK file of the WhatsApp video app for Android. Once the APK version is downloaded, just tap on it to start the installation process. Whenever you wish to download WhatsApp videos, just launch the Snaptube app.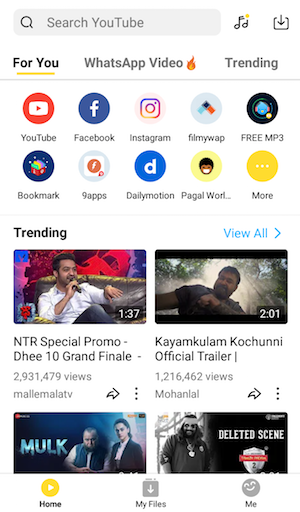 Note: In some Android devices, third-party app installation is disabled. To enable it, go to your device Settings > Security and turn on the option for app download from unknown sources.
Step 2: Look for your favorite WhatsApp videos
After launching the app, you can view a shortcut for various platforms on the homepage. You can tap on any platform of your choice.
To download WhatApp videos of others, just tap on the WhatsApp icon to discover the content.
To download videos from other platforms to WhatsApp, you can type certain keywords on the search bar and look for WhatsApp videos. You can search for funny, romantic, inspiring, and all the other kinds of videos.
Step 3: Download videos on your device
To watch any video, you can just tap on it. This will launch a dedicated video player and start streaming it. You can tap on the "Download" icon, which is located at the bottom of the video player to save it. The application will provide options for different video resolutions that you can download. Simply select the desired resolution to commence the downloading process.
That's it! By using Snaptube, you can watch and download as many WhatsApp videos as your choice. To view them, you can go to the "My Files" folder in Snaptube or can find them in your phone memory as well. From funny videos to romantic clips, you can find it all on this status video download app for WhatsApp.
updated by on 7月 08, 2022