All the regular users of WhatsApp out there know how interesting the platform has become in the last few years. Now, users can send photos and videos to each other pretty easily. Besides that, they can also post small video clips as their WhatsApp status. A lot of users post funny, emotional, and even inspiring videos as their status, which stays only for the next 24 hours. If you are falling short of WhatsApp videos, then don't worry. Read on and learn how to download WhatsApp status video in high quality for free.
Part 1. The Best WhatsApp Video Downloader
Snaptube is a one-stop destination to watch and download video of all kinds. The app has recently introduced a new feature of "WhatsApp Videos". Users can easily find the dedicated section on its homepage and download short videos for WhatsApp of their choice with a single tap. It is a user-friendly platform with a sleek interface and a fast-loading video player. Here are some of its amazing features.


Download
Snaptube is freely available and is compatible with all the leading Android devices. There's no need to root the device in order to download Snaptube.
The app has integrated numerous entertainment platforms together so that users can easily look for any video or music of their choice.
Besides amazing videos for WhatsApp, you can also download movies, TV shows, and even stream music free of cost.
Its picture-in-picture mode will let you watch a video while multitasking.
Part 2. How to Download WhatsApp Video Status
After getting to know about all these amazing features of Snaptube, you can easily use it to download free WhatsApp video clip as well. All you need to do is follow these simple steps.
Step 1: Get WhatsApp Video Download App
Needless to say, you have to download Snaptube app on your device first. Now simply visit the official website of Snaptube and download its latest stable version. An APK file will be downloaded on your phone. Simply tap on the file and install the app by following the simple on-screen instructions. In this way, you can download the app on your phone.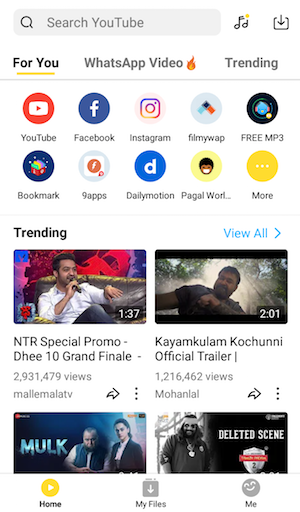 Step 2: Browse All WhatsApp Video
Whenever you wish to download short video clips for WhatsApp, simply launch the Snaptube app on your phone. On its welcome screen, you can see a dedicated section for "WhatsApp Video". Simply tap on it to continue.

Alternatively, you can even search for more videos as well. To do this, tap on the search bar on the top of the app and provide specific keywords. For instance, if you want to post funny videos as your WhatsApp status, you can type "funny WhatsApp status".
Step 3: Download Videos for WhatsApp
This will display an extensive list of all kinds of WhatsApp videos. To watch a video, just tap on it. Once the video player will load the respective video, you can simply watch it without any problem. To save the video, you can tap on the Download icon.

The application will further provide different resolution options for the video. It also supports the downloading of HD videos. Simply select the resolution of your choice and the video will start downloading on your device.
Step 4: Share Video File on WhatsApp
In the end, you can find the saved WhatsApp video under the "Downloads" folder of Snaptube. Select the video, tap on the "More Options > Share" button, then choose the "Sent" File" tab. From all the provided options, select "WhatsApp" to share it directly to your contacts on WhatsApp.

updated by Chief Editor on May 13, 2022