Punjabi is one of the sweetest languages in India and expressing your feelings through Punjabi sounds just perfect. In today's world of social media, people put up status updates to let their friends and followers know what is going on in their lives. They express their current feelings through their status starting from love status to sad status.
If you want to upload beautiful WhatsApp status in Punjabi, you need to go for Punjabi status download. You can download status videos from video streaming on any online platforms as well as directly download someone's WhatsApp status. We will illustrate how you can download Punjabi WhatsApp status for free with Snaptube.
Part 1: Punjabi status download free with Snaptube
Looking for the best free Punjabi status video downloader app? We recommend Snaptube app where you can save unlimited videos on your phone for free. You can either download new Punjabi status videos from various video streaming platforms like Dailymotion as well as social media platforms like WhatsApp, Facebook, Instagram and more.
The app does not offer any premium plan and hence, there is no limitation on the available features. You can download status videos up to 1080p HD resolution according to your video. Along with Punjabi status videos, you can download Punjabi songs in any desired file format using Snaptube app.
Download
Why prefer Snaptube?
Snaptube clearly stands out among all the free video downloader apps, as there are several exclusive features in Snaptube that outshine other apps completely. Here are the main features of Snaptube app.
Get Punjabi status videos on your phone from 100+ online websites.
Save videos in any resolution such as 144p, 720P HD, and 1080 FHD resolution.
Completely free and highly secure app to download videos without any malware.
Download status videos in bulk to save your precious time.
Get videos and audios in multiple file formats for more compatibility.
Play videos using built-in player for instantly viewing.
And many more.
How Do You Download Status Videos Using Snaptube?
Follow these steps to download and install Snaptube app and thereafter, download new Punjabi WhatsApp status videos conveniently.
Step 1: Install Snaptube App On Your Phone
Go to Settings and allow permission of installing apps from unknown sources. Hit the button below to download APK file. Install Snaptube app from its APK file by following the on-screen instructions.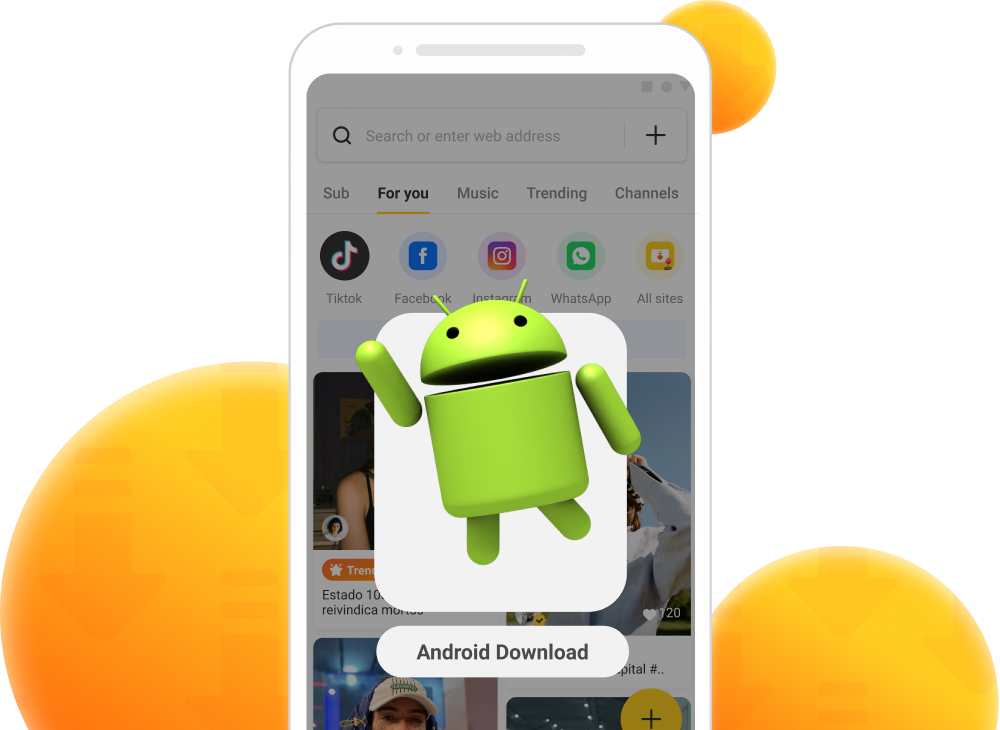 Step 2: Search Status Video URL
Surf on Snaptube for the best Punjabi status videos by entering keywords, for example, "love quotes in Punjabi"; or copy the URL of the video that you want to download into the search box. You will see the status video instantly for watching and downloading.
Step 3: Save The Video on Your Phone
Once the selected video appears on Snaptube search result, tap on the Download icon to save the status video on your phone. After downloading, you can view the status video instantly through built-in the player on Snaptube. 
Part 2: List of Punjabi WhatsApp Status
Here is the curated compilation of trending Punjabi WhatsApp Status in different genres that you can download and thereafter, upload on your social media accounts.
1. Love status in Punjabi
If you have recently fallen in love with a person, you might want to express your feelings to the world. Here is a perfect love status video that has become quite viral that shows love at first sight from a person's perspective. It is actually a clip from a music video and you can download its HD version for the best result. 
Link – https://www.youtube.com/shorts/6z1CfBc8Btc
2. Love quotes in Punjabi
Along with movie clips portraying love, Punjabi quotes or Shayaris are equally popular for WhatsApp status. Punjabi quotes are generally short but sweet and if you are in love, here is a great love quote in Punjabi that will touch everyone's heart. 
Link – https://www.youtube.com/watch?v=WPuwv6wSPBI
3. Sad status Punjabi
There are times when we go through tough situations such as breaking up with someone or failing in a life event. That is when we need to share our sad feelings with friends and followers, and sharing always brings down the pain. Here is a sad status video in Punjabi that you can upload on your WhatsApp or social media accounts. 
Link – https://www.youtube.com/shorts/gmj7crK4W04
4. Sad quotes in Punjabi
More than the love quotes, it is always the sad quotes in Punjabi that hit hard in the heart. That is why sad quotes in Punjabi are extremely popular and if you are in a sad mood, you should consider downloading the following sad Shayari in Punjabi and share it with your friends to bring down the pain in your heart. 
Link – https://www.youtube.com/shorts/8z38R8aShUU
5. Attitude status in Punjabi
Attitude is a special personality trait that every Punjabi possesses in their blood. Therefore, attitude status videos are always a hit among Punjabi. Here is a perfect attitude status in Punjabi that shows how attitude could actually be a good trait to have in human beings when it is properly channelized. 
Link – https://www.youtube.com/shorts/PqJGqVcNI4w
Part 3: FAQs
How can I download someone's Punjabi status?
You can use Snaptube to download someone's Punjabi status on WhatsApp, Facebook, and Instagram. Launch Snaptube and select the supported platform such as WhatsApp and then go to the status from your account and download the status video instantly. 
Where can I find Punjabi status to download?
If you want Punjabi status videos, you will find them online. The social media platforms are where you can find Punjabi status videos that you can download through Snaptube. 
Conclusion
Punjabi language explodes the emotion in the human heart, and therefore, starting from love status to sad status in Punjabi, they are always a hit on social media platforms. You can download the best Punjabi status videos with Snaptube by searching for them either from video streaming platforms or someone's social media account.
updated by Chief Editor on Jul 21, 2022