While randomly accessing various entertainment and social media websites, some videos impress us and we want to watch them again and again. However, it is not possible to stream them online and exhaust our valuable data. Rather than searching them again and again on the internet, it's better to download at once. Also, sometimes we see an impressive video and want to make it our social media status. Video downloading options are restricted on almost every single website. If you want it to save video, it requires the help of a third-party app. Those who are using Android smartphones can go with the option of the Snaptube app to save a video.
Save Videos Online with the Help of Online Video Saver
You may have seen some tricks to download online videos but they are very complicated and don't work every time. Instead of wasting your time on unreliable options, it's better to you browse and download videos with Snaptube. This revolutionary video saver app has a friendly user interface just like the browsers. However, it is specifically designed to play and download videos by generating links automatically.

Download
Below is a list of some features that you must know before downloading it.
Every video that you play in the Snaptube application comes with a downloading button. With just one touch access, you can save any video in your smartphone's memory.
According to the data plan and availability on the server, you can download a single video in multiple resolutions.
Browse all videos that you want without the interruption of advertisements for free. Consider it as an upgraded version.
It is capable of downloading all multimedia including videos, images and audio files.
Snaptube has an inbuilt converter to download any video into an MP3 or m4a file format.
How to Save Video from Website with Snaptube App
Step 1. Download and Install Video Saver
Visit the official website of Snaptube for third party platforms where .apk file of this app is available to download. Once the app is downloaded, install it by surpassing any kind of warning. The android operating system may warn about the risks of installing a third-party app. Don't worry because it is verified risk-free by McAfee security center. It will hardly take a few seconds to complete the installation process.
Step 2. Assessing Your Favorite Multimedia
When you open the app, it will show a search bar on the top where you can enter the URL or keywords of a video. Some popular websites are also bookmarked for the convenience of the user. Below the bookmarks, you can infinitely scroll across the countless videos. In order to personalize the preferences, sign up with your Google account. If the desired video is available on a social media platform, copy its link and paste or log in with your user ID within Snaptube.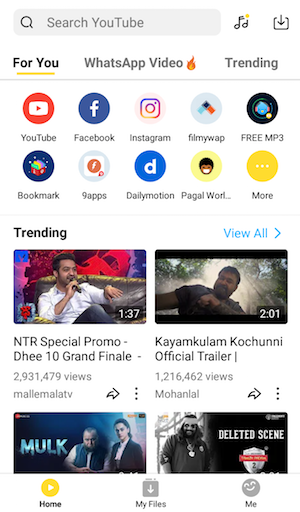 Step 3. Save Video from URL
As you open the video, it will start playing and the page will show an additional button of downloading. By tapping on it you can save any video online in multiple resolutions. Also, the option of converting into an audio file format will be available there.  If you want it to upload as status, make sure that the video length is compatible with the social media platform.
Select the storage location and execute the downloading process. According to internet speed, it will take a few moments to complete the downloading. Once the video is saved, watch it offline anytime or share it on third-party social platforms with your friends.
Within these three simple steps, anyone can install the Snaptube app and use it's downloading feature for saving interesting videos. We have explained in detail how to save videos or convert them into audio file formats. Snaptube is available for free to all Android users. It comprises some premium features such as ad-free entertainment and high resolution downloading capability up to 4K. The app provides a hundred percent safe environment to access your social media accounts for downloading videos.
updated by Chief Editor on Jan 19, 2022