If you are looking for a fast, simple, and reliable solution to download videos on your Android device, then you have come to the right place. All you need to do is download Snaptube on your Android device. This freely available app will let you download unlimited videos from numerous platforms. It supports the downloading of high-quality videos in a secure manner. Read on and learn how to download video with this remarkable app.

How to Download Videos for Free
Since Snaptube has a user-friendly interface, you won't face any trouble using its video downloader. We have come up with a step by step tutorial to getting free video download using Snaptube.
Step 1: Download Snaptube on your Android device
Needless to say, you can't use this amazing free video downloader for Android without downloading it on your device. Simply visit its official website to download its APK version on your device. Just make sure you have enabled the app download feature from Unknown Sources beforehand.

Download
Snaptube is a 100% free and secure app that can download free videos in different resolutions. It has integrated various video sharing platforms in one place. Therefore, you can easily find the video of your choice without switching between multiple apps. You can find funny, romantic, viral, and all the other kinds of videos on Snaptube that can be downloaded with a single tap.
Step 2: Search for any video (by its link or keywords)
After launching the Snaptube app, you can simply look for any video of your choice. On its homepage, you can get a list of different platforms supported by Snaptube. To look for a video on a specific platform, just tap on it.
Also, you can go to the "More" section if you wish to add or delete any video sharing platform of your choice.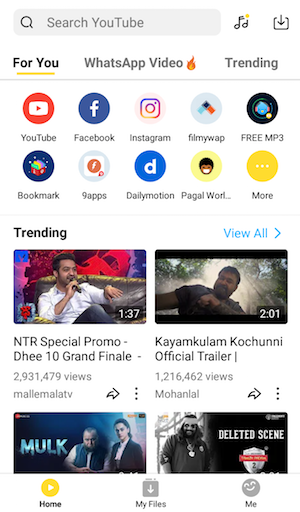 You can search for a video either by entering certain keywords or by providing the URL of the video. If you are searching through a link, then make sure you have already copied the source link from the website (or app). Later, you can paste this URL on the Snaptube search bar.
Most of the users prefer searching for any video by entering specific keywords. Just tap on the search bar and enter keywords for the video you wish to download.

Step 3: Start downloading video
Once you search for the video of your choice (through its link or keywords), Snaptube will instantly display the relevant results. You can simply view the displayed results on the interface. Adjacent to every video thumbnail, there would be a Download icon. Just tap on it to initiate the downloading process.
If you want, you can watch or preview a video before downloading it. Just tap on the video thumbnail to launch the player. Now, to save the video, tap on the Download button located at the bottom of the player.


You will get an option to select a resolution for the video. The interface will display an estimated size for each resolution as well. Simply tap on the video resolution of your choice to initiate the downloading process.
Wait for a while as the app would automatically download the video in the selected resolution. The video will be saved on your device and can be accessed via Snaptube or the native video app.
Where to Download Free Videos
One of the best things about Snaptube is that it allows us to download videos from multiple sources. The app has integrated numerous platforms in one place. Therefore, you can easily find the video of your choice without the need of switching between different apps. Some popular platforms that you can find on Snaptube are Vimeo, FunnyorDie, Vine, VidMe, DailyMotion, and so on. You can also download videos from popular social media platforms like Facebook, Instagram, and Twitter as well.
With so many features, Snaptube is certainly a must-have app for every Android user. It will let you download videos in different resolutions with a single tap. Since it is freely available and doesn't have any download limit, you can use it as much as you want without any hassle.
updated by Chief Editor on May 09, 2022