If you are a fan of anime series and movies, then you have come to the right place. While there are plenty of websites and apps to watch anime, users often look for ways to download anime videos. By taking the assistance of Snaptube, you can download anime series and films of your choice in high-quality. It is a freely available solution that can help you download all kinds of videos and music on your Android device. Read on to learn how to download high-quality anime videos for free.
How to Download Anime on Android
Since Snaptube is compatible with all the leading Android versions, you won't face any problem using it. The anime video downloader provides a user-friendly solution to download tons of anime videos in the resolution of your choice. Let's learn how to do this in detail.
Step 1: Download the anime downloader
Firstly, you have to download the latest version of Snaptube on your device. Beforehand, make sure that the app download feature from unknown sources is enabled on your device. Snaptube features a wide range of anime and video sharing platforms in one place. You can simply look for a video of your choice and download it on your device for free.

Download
Besides having a fast-loading player and a picture-in-picture mode, it also provides a seamless solution to download videos as well. The app provides a secure and highly reliable solution to download anime videos. You can download it on your device without worrying about any malware issue.
Step 2: Select an anime platform
After launching the Snaptube app on your device, you can find a list of various anime sites. You can just select the anime-related platforms of your choice. Furthermore, you can tap on the "More" section as well. From here, you can add or remove any other anime platform as well.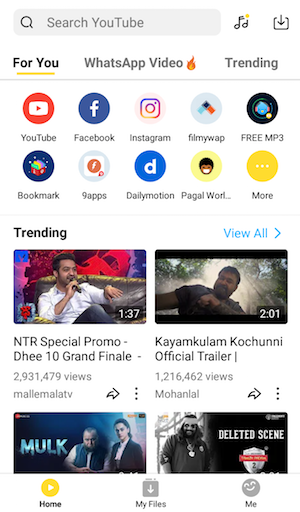 Step 3: Search for any anime video
Now, you can look for any video of your choice. On the search bar, you can provide the relevant keywords for the anime video you wish to download.


Additionally, you can look for a video by providing its exact URL as well. To do this, you first need to copy the source URL from the platform which is hosting the video.
Step 4: Download the anime video
The interface will display relevant results related to the searched anime video. Besides every video thumbnail, there would be an option to download the video. Just tap on the download button. Also, you can tap on any video thumbnail to view it. This will launch a video player on which you can watch the anime video. At the bottom of the video player, you can see a download button. Just tap on it to continue.

The interface will provide a list of various video resolutions. Just select the resolution of your choice and start the downloading process.
By following these simple steps, you can easily download anime movies and videos using Snaptube. This user-friendly and freely available Android app is a must-have tool that every anime lover should have. Go ahead and download the app right away and never fall short of animes.
updated by Chief Editor on May 09, 2022