The stream of content from your TikTok "For You" page can be a little addictive sometimes. By simply scrolling a few times, you could find yourself watching a clip of your favorite football player, learning how to make graphic animations, or even watching one of the many ongoing TikTok challenges.
It's only natural that you might like to download a couple of videos to watch or share at a later date and time, without having to open the TikTok app.
In this article, we'll guide you through the step-by-step process of how to download MP4 TikTok videos using Snaptube, and the numerous benefits of doing so.
TABLE OF CONTENTS
What is Snaptube Video Downloader?
Before we dive right into our step-by-step guide on how to use the Snaptube app to download MP4 TikTok videos, we would like to fully explain what Snaptube is all about.
With up to three hundred million users (300,000,000) and more than fifteen million positive reviews (15,000,000), Snaptube is regarded as one of the best video and music downloading sources for Android devices.
Snaptube is supported by more than fifty sites including TikTok, WhatsApp, Facebook, Instagram, and VEVO, amongst many others, and offers video resolutions in a range of 144p, 720p, 1080p HD, 2k HD, 4K HD, and audio formats in MP3 or M4A.
It has a simple installation process. Any video downloading with Snaptube is free, fast, and of high quality.
Download
TikTok Video Download to MP4: Step by Step Guide
It's easy to use Snaptube for downloading TikTok videos. For new users, please follow the following steps.
1. Download the Snaptube apk
Snaptube isn't available in Google Play but it's 100% safe. You can see a prompt to Download Snaptube. By simply clicking that button, you're good to go.
2. Search Tiktok videos or paste the TikTok video link
Search the keywords of the TikTok video or paste the URL of the video you want to download in the Snaptube application search bar. You can also open tiktok.com using Snaptube's built browser and check the videos.
3. Tap on Download and select the resolution
Tap on the yellow Download button to proceed. This gives you the option to choose the format and resolution of the TikTok video you intend to download or stream.
With the successful completion of these steps, you'll be able to save, rewatch, and share the downloaded TikTok video from wherever you are, whenever you want.
Benefits of using Snaptube to Download MP4 TikTok Videos
Below are a few concrete reasons and benefits why you should choose Snaptube as your go-to TikTok video downloader.
Snaptube allows access to the download of TikTok videos in high definition (HD) quality amongst other resolution options, for no charge at all (100% free), and it's completely safe.
Snaptube allows you to download all your favorite videos from TikTok for free without limitation or any other restrictions on the number, size, or duration of downloads.
Snaptube can save the downloaded files in-app and/or to your device, for easy management and viewing at any time.
You could even choose to download TikTok videos to audio (MP3).
Snaptbube supports downloading even private TikTok videos.
With the mentioned benefits and more to be discovered and experienced on the Snaptube application, you're only a click away from the video downloader you've been searching for.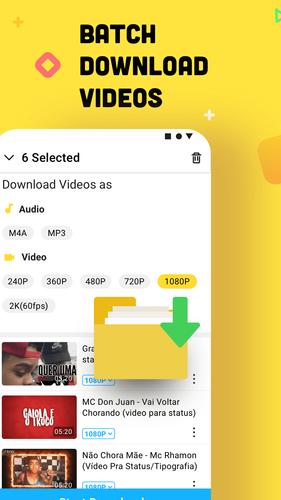 Frequently Asked Questions (FAQs)
These are some of the questions that you may come across during the TikTok MP4 video download process, application installation, or use of the Snaptube app:
How many TikTok videos can be downloaded at the same time?
The Snaptube app supports the download of up to 10 videos at a time. You can set the number of simultaneous download tasks (1-10) in Settings > Max Download Tasks.
Where do I find my TikTok MP4 videos that I downloaded?
You can find your downloaded video list by clicking "My Files" in the bottom bar of Snaptube app. You can directly play it with the built-in player. 
Can I download TikTok videos to MP3?
Yes. With Snaptube you have multiple solutions to download TikTok videos as MP3 or MP4. 
Write In the End
In essence, Snaptube is a highly recommended, safe, fast, accurate, reliable, free, and easy-to-use video and audio downloader. It is an all-in-one software that is appropriate for all types of users.
It does not require any technical knowledge to operate due to its simplified operating system; all you have to do is follow the steps highlighted in this article and you will have no problems. We recommend that you visit the official website and discover which of its many benefits and features are suitable for you.
updated by Chief Editor on 6月 24, 2022