If you like to listen to songs or watch videos on your Android phone, then you might already know the importance of a good MP3 MP4 downloader app. With the right tool, you can easily do free MP3 MP4 music downloads on an Android.
Here we will introduce you to a free app that can perfectly meet all your music and video downloading needs.
Snaptube MP3 MP4 Downloader
Ideally, Snaptube is the only app you need to do MP3 and MP4 song downloads on an Android phone. The application is available for free and supports both MP3 and MP4 formats to download a media file.
Download
On the Snaptube interface, you can already find tons of supported platforms that you can switch between without leaving the app. For instance, some of these listed platforms are Soundcloud, Facebook, Instagram, Dailymotion, TikTok, etc.
There are also options for providing the URL to MP4/MP3 song downloads or simply searching by relevant keywords.
Once the video is loaded on Snaptube's media player, it will let you select MP4 or MP3 as the format in which you want to download the file.
Not just that, you can also select a preferred bit rate or its video resolution to download it in optimized or HD formats. Specifically, the MP4 format provided starts from 360p to HD, and the MP3 format starts from 70kbps to 320kbps.
The built-in player supports both online and offline playback.
In short, you can do unlimited free MP4 music downloads for Android using Snaptube.
How to Free Download MP3 MP4 Music with Snaptube?
Snaptube allows you to access unlimited videos and music from multiple platforms for free. Here's how to download them offline to your phone.
Step 1: Get the Snaptube MP3 MP4 download app
To do the MP3 MP4 video song download on your device, you first need to install Snaptube. Just click on the red button below to start the APK download.
After that, ensure that the app download option from unknown sources is enabled on the phone by visiting its security settings.
Step 2: Search for any video audio to download
Great! Once the app is installed, launch it and enter the specific keywords for any MP3 or MP4 that you want to download on the search bar.
You can also switch between the supported platforms on Snaptube without leaving the app or submitting a URL of the media to download. You can choose either method according to your preference.
Step 3: Download the MP3 or MP4 file on your device
After getting the appropriate results, you can load the media content on the player of Snaptube to view it. To do the MP3 or MP4 music download, you can tap on the save (download) icon from the bottom.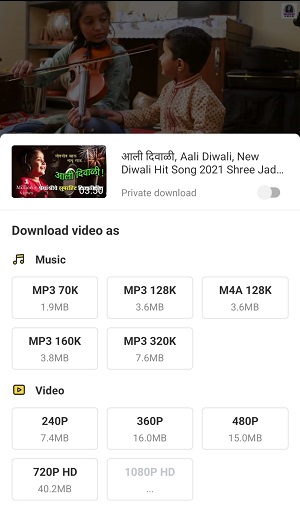 As listed above, Snaptube will now present different formats and quality options to save your file. You can select either MP3 or MP4 as the target format and a preferred quality to download the file on your phone.
Once the MP3 or MP4 file is downloaded, you can access it from Snaptube's library or the local file storage of your device. You can also share the file with your friends.
Is Snaptube really free?
Snaptube is 100% free to use. You don't have to spend any penny to enjoy the full features of this MP3 MP4 download app.
Does Snaptube have any limitations on downloading MP3 MP4?
No, Snaptube does not set any limit to downloading. As one of the best Mp3 and MP4 music download apps, it gives you the freedom to download as much as you like.
Can I download an MP3 song from an MP4 video?
Yes, you can download an MP3 song directly from an MP4 video. The process is very simple as well, just follow the steps that we've illustrated above and choose the MP3 format. Even if you have already downloaded the video, you can change the file format and resolution at any time.
So far, we have done all the introduction of the Snaptube MP3 MP4 song download app. Now you can try it yourself. It's simple, and you'll find we're no exaggeration about this great entertainment app.
updated by Chief Editor on 2月 15, 2023