We all love to listen to our favorite songs every now and then. Though, in order to download music, we mostly have to pay a small amount. If you listen to a lot of artists, then it might cause a dent in your pocket. The best way to avoid is by using Snaptube. The app can let you download your favorite music from different websites and that too without paying a single dime. Let's learn how to download music in mp3 format for free in detail.
How to Get Free Music Download for Android Phone
To download your favorite songs in mp3, simply take the assistance of Snaptube. The app has a user-friendly interface and will let you download music with a single tap. Here's how you can do it.
Step 1: Get the music downloader app
To start with, download Snaptube APK version on your Android device for free. Once the app is installed, you can start downloading music and videos without any limits. The app has integrated a wide range of music and video sharing platforms in one place. Therefore, you can find the content of your choice without investing your time.

Download
It has a sleek and user-friendly interface that will let you download music and videos without facing any unwanted hassle. You can download videos in multiple resolutions and any music file in MP3 format. Since the file would be saved on your device, you can play it anytime you want (even when you are offline).
Step 2: Search for any song/artist/album
After downloading the free music downloader for Android, launch it on your device. Now, you can simply look for music of your choice. On the homepage, there are different options that you can select.
Also, you can just add or remove any platform as well. Go to the "More" option and tap on the add icon to include any other platform.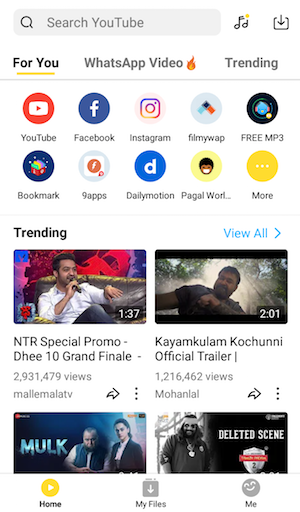 Great! Now you can search for any music file with a link or related keywords. If the music file is already hosted somewhere, then you can copy the link and paste it on Snaptube's search bar. Alternatively, you can simply look for any kind of music of your choice. Just type the song title, artist name, album, movie, genre, or anything you have in mind.
Step 3: Download music file
It doesn't matter if you have searched for a song through its link or by providing relevant keywords, the interface will display the related search results. To save the song, just tap on the Download icon located near the thumbnail.
Also, you can listen to a song before downloading it as well. Just tap on the thumbnail to play the song. To save it on your device, tap on the Download icon.

The application will save the song in an mp3 format on your device. In this way, you can listen to the downloaded song anytime you want!
Where to Download Free Music
As stated, Snaptube has integrated multiple platforms in one place. Therefore, you can download your favorite songs from numerous websites using Snaptube. You can go to the platform list to view these websites or even add an option of your choice. Some music sharing websites that you can already find on Snaptube are SoundCloud, tune.pk, freemp3, atozmp3, and more. These platforms host an extensive range of music that can be downloaded for free using Snaptube.
Now when you know how to download new music free using Snaptube, you can certainly make the most of your device. Simply launch Snaptube, look for your favorite songs, and download them on your Android phone. Yes, it is really as simple as that! Go ahead and download Snaptube and never fall short of your favorite songs.
updated by Chief Editor on Jul 21, 2020