Did you ever face trouble finding the best way to download songs for free? On the internet, hundreds of apps are available as the music downloader, but Snaptube is the best choice to get MP3 music of different genres. You just copy the link of your favorite song and paste it into the Snaptube app and you can download it for free. Interested in more details about URL to MP3 download? Let's check it.
A Free App to Download Songs From URL
By using link download MP3, the subscription fee could be saved. And the Snaptube music downloader is all you need to access millions of free songs. It can be used as a URL music downloader, plus you can directly search for songs by title, artist, genre or anything related.
Download
Snaptube is easy to use and provides different formats and audio quality to download songs by URL. Just look at some simple steps below.
1. Install Snaptube on your device
Use the Snaptube app to download music by link. However, before that, you need to install the app on your device and get its apk just by clicking the Download Snaptube button. 
The app is not available on the play store, so you may need to allow app installation from other sources in the Settings.
2. Copy the music song link
Snaptube supports converting the song/video link to MP3. So, open any streaming site you frequently visit, copy the link of your favorite song or video, and paste it into Snaptube's search bar.
3. Download music from the link
The target file will be loaded on the Snaptube screen. To save the music on the phone, tap the download button and choose the MP3 format. You can also choose different bitrates from 320kbps or 128kbps.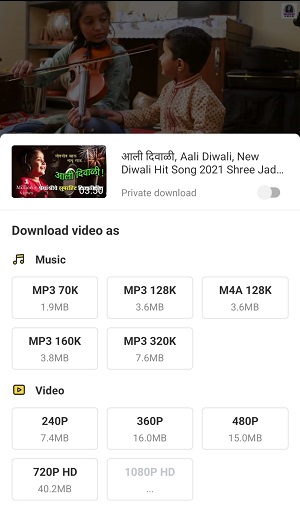 Or Directly Download MP3 without the Link
By using Snaptube, you can also get the music without any song download link. For that purpose, you just put your favorite song or artist name in the search bar, and it will show you relevant results. When you click on the thumbnail, you watch the music video, and you can create your playlist too.
This download option shows at the bottom of the screen and saves automatically when you press it.
Compared to URL MP3 download, this method is more efficient as you don't need to switch between different apps. It does not take so much time.
Besides, there are some platforms which compatible with Snaptube. You can download videos and MP3 music from these platforms for free. Now, it's time to start exploring the world of free videos and music on the Snaptube app.
Full Features of Snaptube Music Downloading
Snaptube is not just the URL music downloader. It is considered the best app for Android users because it allows you to download songs with links and gives access to millions of music and videos for free.
Find your favorite music easily
Here you can get songs of any genre, language, and artist. There is a huge library with millions of audio and videos for free.
URL to MP3/MP4 Download
Just enter the file link in the Snaptube search bar and let the file save it as an MP3 or mp4 file. You get it downloaded in a very short time.
Variety of bitrates and qualities
In the Snaptube app, after selecting the format of MP3 music, you can choose the bitrate and quality, like 128kbps or 320kbps. The file will be saved on your phone, and you can get access it anytime.
All-in-one entertainment app
The app provides access to 50+ social platforms and permits users to add their chosen sources. Some of the popular names are listed below.
Instagram
Facebook
Twitter
Vevo
Vimeo
WhatsApp
Dailymotion
Soundcloud
Pinterest
TikTok
Funny or die
Anime FLV
Anime
Liveleak
And more
You can download free MP3 songs and videos from the sites mentioned above. You can visit these sites using the integrated browser, setting the video playback, and waiting for the download button to appear.
However, one thing must be clear. You should use Snaptube properly in compliance with your country's intellectual property laws, so you can enjoy unlimited music.
updated by Chief Editor on Sep 29, 2022