There is no doubt that our lives need some entertainment, and there is no better entertainment than watching a movie. However, if you watch movies online for free, you may need to spend some time. Because it is too difficult to find a stable and reliable platform with comprehensive movie resources.
But you won't feel that way after reading this article. We have prepared a free app for you to help you watch Hindi movies online and download them to your phone.                    
Part 1: How To Download and Watch Indian Movies Online Free?
When you watch Hindi movies online in HD quality, we recommend Snaptube app to either watch or download movies for free on your phone.
Snaptube is a free video and music app where you can access a huge collection of movies, videos and popular hits. The app supports 100+ online video platforms from where you can find movies instantly. No more wasting time looking for movies from one site to another. You can even select different resolutions and file formats to download multiple movies simultaneously. The most important thing is that it is very safe and stable, with it you will have endless audio and video entertainment.
Download
Steps to watch online Hindi movie
Here are the steps you need to follow in order to download and watch Bollywood movies online free.
Step 1. Download Snaptube app
Tap on the download button below and install the app on your phone.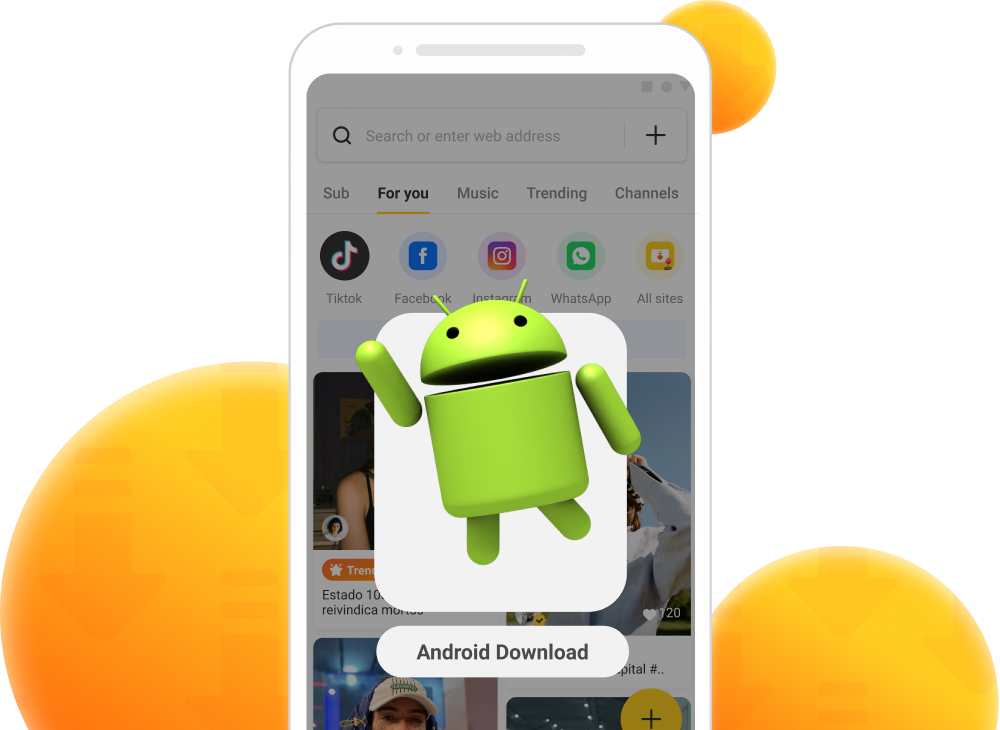 Step 2. Search and Watch Movie Online
The easiest way is to search for movies directly in the Snaptube app, which supports querying by movie title, genre, actor name, and more. Once you find a movie, tap on the thumbnail to watch it online. Snaptube's built-in player buffers fast, so you'll hardly experience video stuttering. Also, no pop-up ads will bother you during playback.
Now, enjoy your movie time!
Step 3. Download The Movie if You Want
You can also download the Hindi movies to your phone and watch them offline. Therefore, you do not have to be dependent on the speed of the internet. You can tap on the Download icon to save the movie on your phone. Select video resolution as well as the file format. If you have selected HD resolution, please wait patiently for the movie to get downloaded. 
Part 2: Why Choose Snaptube for Online Hindi Movie?
Here are the key features of Snaptube app that make it the best free entertainment app in the market.
Multiple video platforms – Snaptube allows you to watch and download movies from 100+ online video platforms starting from DailyMotion to Facebook. 
Built-in player – You can download and watch movies directly on Snaptube with its built-in player. There is no need for another app to play the videos and watch them offline.
Completely free – The app is 100% free and there is no limitation as the app does not have any premium plan.
Multiple video resolutions – You can download any movie in the available resolution. This means Snaptube supports 144p, 240p, 720p HD, and even 1080p FHD resolution.
Batch downloading – You can download multiple movies at the same time, and this feature is useful when you have a Wi-Fi connection available. It will save a lot of time by batching downloading multiple movies. 
Safe to download – Snaptube is protected and certified by reputed security service providers. Therefore, there is no chance of downloading malware while downloading movies from online sources.
Part 3: Sites To Watch Hindi Movies Online
Here is the list of the top websites where you can watch Indian HD movies online.
YoMovies
YoMovies is the most reliable website to watch Hindi movies online in HD quality. Since it is not legal to upload the latest movies online, the site is blocked in India. Hence, you have to use a VPN application to access the website. 
Link – https://yomovies.co/
MXPlayer
MXPlayer is a great online video streaming platform where you can watch old as well as new Bollywood movies for free. Apart from that, you can watch multiple web series as well for free. Other than that, you'll get to see movies and web series of different languages for free.
Link – https://www.mxplayer.in/
YesMovies
YesMovies is an online platform where you can watch Indian movies online. The platform continuously uploads movies on YesMovies and you get to watch them in the high resolution provided. All the different genres of movies are available for streaming. 
Link – https://yesmovies.id/
Hotstar
Hotstar is the best destination to watch Bollywood movies from Disney+. You can watch many movies on Hotstar for free. However, you need to subscribe to it to watch the latest Bollywood movies. 
Link – https://www.hotstar.com/
Apart from these, you should visit Voot, Zee5, SonyLiv, and JioCinema to watch movies online. If you want a full list, check another article about the top sites to download Bollywood movies in HD.
updated by Chief Editor on Jul 21, 2022