Facebook is a famous social media platform that has the most active users from around the world. The social networking site has transformed from messaging & networking app to a platform where you can watch content, enjoy videos, and even watch movies posted by different Facebook pages. However, in most cases, you will see movies shared in parts. Therefore, watching movies on Facebook might not be a very pleasing experience.
Whether you want to download videos shared on Facebook or want to enjoy movies on your phone in consolidation, you need a Facebook movie downloader to get all parts of a movie and consolidate parts using any video software. Snaptube is a free FB movie downloader, and we will discuss how to use it to save videos to your phone.
How to Download Facebook Movies Using Snaptube?
Snaptube is an all-in-one app to download Facebook movies, videos, clips, etc., as well as videos from other social media platforms like Instagram, TikTok, Twitter, etc.
Here is the complete guide to using the free Facebook movie downloader:
Step 1: Download and Install Snaptube
Firstly, you have to download the Snaptube on your Android smartphone from the official website. Besides, you can also download the APK from popular app stores like Uptodown, Huawei app gallery, Aptitude, etc.
Once downloaded, go to your phone settings and allow to Install apps from unknown sources. After this, install the app on your phone; you won't be troubled with any issues.
Step 2: Search For FB Movies
Launch the app, and Tap the Facebook icon on the top. This will take you to the Facebook login page if it's the first time you are using Snaptube.
After logging into Facebook using the built-in browser, you can go to the FB page where the movie you want is located. You can see there is a download button.
If you don't want to log in, alternatively, you can paste the link directly from Facebook to download the movie directly on Snaptube.
Tip: If you want the full movie instead of clips, search for the Facebook movie title in the search bar.
Step 3: Start Downloading the Movie
Tap on the Download Button, select the video format for the movies or video and start downloading. Once the download is complete, you can enjoy your movie the way you want. Watch it with the in-built player, connect your phone to a projector or move the movie to your laptop.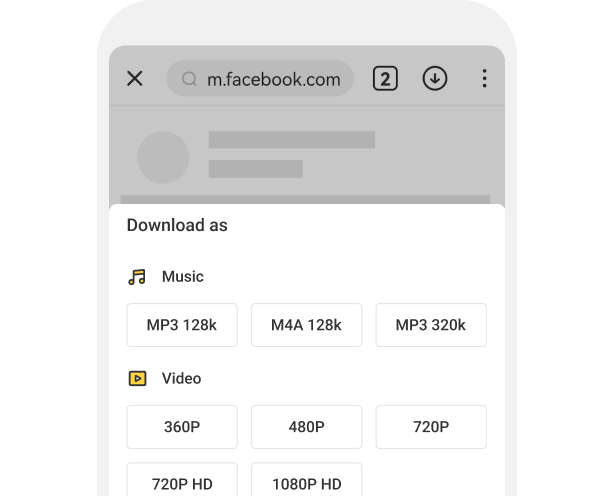 As an Android user, one must utilise the benefits of Snaptube because you don't have to pay any subscription charges. Also, it doesn't require any account signup option to access the services. Just install and start accessing your favourite video streaming sites anytime and from anywhere.
Why Choose Snaptube as FB Movie Downloader?
Why choose Snaptube as your go-to Facebook movie link downloader? Because, Snaptube is safe to download and approved by 9+ security organizations. You can also download unlimited content with Snaptube for free. Here are some features that make it an all-in-one app as a Facebook movie downloader:
1. Supports Multiple Platform
The all-in-one entertainment app has consolidated every video, audio, and social media platform in one to let you easily navigate your social media and download the videos, songs, and a lot more without hassle. Snaptube supports 50+ sites with popular ones like Instagram, Facebook, TikTok, Twitter, 4Shared, WhatsApp, etc.
2. Multiple Formats are Supported
Whether you want to download a 4k HD video or a 144p, audio from video, or a song from Soundcloud, you can do it without any hassle. The app supports multiple formats and resolutions to make it easier for users to get what they want.
3. Safe to Download
The app has been approved by 30+ security organizations, including McAfee, Avast, etc. Since the app is not available on Google Play Store, many people think it's not safe. But the Snaptube team has rigorous QA protocols, and we scan apk versions through many virus and malware detection engines before every update.
4. Find Facebook Videos By Themes
You can search and download videos by theme. For instance, if you like romantic movies, you can search romantic movies on Facebook on Snaptube and download the ones that match your taste.
5. Free Downloading
Snaptube is free to download on any Android device. Besides, there are no subscription charges, and you can enjoy as many free downloads as you want.
Download Videos By Theme With Facebook Movie Downloader
Snaptube allows you to download videos by themes. You can directly search movies on Facebook and copy the link in Snaptube. Alternatively, you can search for Facebook movies in the Snaptube app and watch your favorite movies by downloading them directly on your Android phone.
Some Facebook movie themes to try on Snaptube or directly from Facebook are:
Romantic movies
Comedy movies
Friends movies
College student movies
Hollywood movies
Bollywood movies
Cartoon movies
Kids movies
Latest movies
FAQs
Is the Snaptube Facebook video downloader free?
Yes, Snaptube Facebook video downloader is completely free to download and use on your Android phone. You can install the app from the official website and enjoy unlimited downloads from 50+ websites, including Facebook movies.
Which video quality is supported by Facebook movie downloaders?
Snaptube is a Facebook movie downloader that supports multiple formats, whether you want a lower resolution or high-quality movie. You can download videos from Facebook in 240p, 480p, 720p, 1080p or 4K.
Can I download any video from Facebook?
Facebook has not the inherent feature of downloading any video. However, you can save videos to watch later. But still, you will need the internet to watch the saved videos. On the contrary, with Snaptube, you can either watch online or download videos from Facebook and watch them offline. 
Conclusion
We have discussed different themes you can search to find the latest and best movies on Facebook. Now, all you need to do is install the Snaptube to download and watch them later. It's free software that can be installed from the official website to enjoy free and unlimited downloads. Just get the app now and let the fun begin.
updated by on Jul 21, 2022