If you are a movie buff looking for a freely available movie downloader to download any movie, then you have come to the right place. By using Snaptube, you can easily download any movie of your choice. The app supports an unlimited download of videos in different resolutions. In this way, you can download movies in high-definition or any other low-size resolution as well. Let's learn how to download movies for free on an Android device.
How to Download Full Movies for Free
In order to get free HD movie download of any language or genre, you can use Snaptube. Ideally, you can follow this stepwise approach to get things started.
Step 1: Get the Snaptube app
Firstly, you need to download the Snaptube app on your Android device. It is a freely available movie downloader that is compatible with every leading Android phone. The app has integrated a wide range of video-sharing platforms in one place. Therefore, you can easily find the movie of your choice without investing a lot of time.

Download
Say goodbye to the hassle of closing unwanted pop-ups or switching between multiple apps to watch a movie. Without buying any subscription of spending a single dime, you can use Snaptube to download movies in high-quality.
Step 2: Search for a movie title
Launch the Snaptube app and simply look for a movie that you wish to download. You can enter the keywords or a link on its search bar. By default, it will search for the provided query. There are different platforms that you can view on the homepage. Simply tap on any movie hosting platform of your choice.
Furthermore, you can tap on the "More" option to manage these platforms. From here, you can add or delete any video-sharing platform on the Snaptube interface.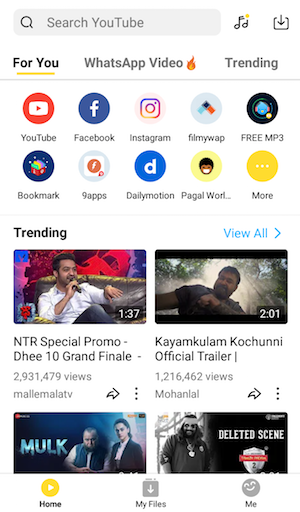 Now, you can search for a movie either by using its URL or entering keywords. If the video is hosted on a particular website, then you can simply copy its URL and paste it on the search bar. Additionally, you can just enter the relevant keywords as well to look for any movie.
Step 3: Start downloading the movie
As soon as you enter the exact URL or the relevant keywords, the interface will display the searched results. To download any video, just tap on the Download icon that is located right beside the video thumbnail. If you want, you can also watch the video first. To do this, just tap on any video thumbnail. This will launch the video player and start playing the movie. At the bottom of the video player, you can view a Download icon. Just tap on it to start the process.
Once you tap on the download icon, the interface will let you know the different resolution options available for the movie download. The estimated size of the video will also be listed beside the resolution.
Simply select the resolution of your choice to initiate the downloading process. Once the movie has been downloaded completely, you will be notified. You can find it under the "Downloads" category on Snaptube movie downloader and the native video app on the phone as well.
Why Snaptube is the Best Movie Download App
It's completely free, with no subscriptions or hidden fees.
You can take advantage of Snaptube to download full movies from 50+ online sites.
All movies can be downloaded at the best quality. 
The built-in player allows you to watch movies online while downloading.
Batch download movies to watch offline. 
More features are waiting for you to explore by yourself. 
Where to Download Movies
So, which websites are supported by Snaptube? 
Snaptube hosts a plethora of movie hosting platforms that you can browse. Even though the app has already included numerous movie sites, you can further add any other website of your choice as well. Some popular movie hosting websites that you can find on Snaptube are Dailymotion, Vimeo, ProVideo, Videoming, VidMe, VuClip, and so much more. You can find movies of all the major genres, language, year, etc. on these platforms without much trouble.
So what are you waiting for? Go ahead and get Snaptube on your Android device right away and start downloading unlimited movies free of cost. The app has no restriction on the download limit and will let you watch high-definition movies whenever and wherever you want.
updated by Chief Editor on Jun 26, 2022