Instagram is the most popular photo-sharing social media platform where users can create their own gallery of photos. You can follow any Instagram user and check out their uploaded photos from your Feed. Not just photos, Instagram users can upload videos, stories, reels, and much more. However, Instagram does not allow users to download any photo or video for privacy as well as user retention.
If you have come across an Instagram photo that you want to download, you need an Instagram photo downloader. Apart from downloading Instagram photos from posts, you may want to download someone's Instagram story as well. We will recommend the best Instagram photo and video downloader and illustrate the simple steps to download all instagram photos at once in their original quality.
What is the best Instagram photo downloader app?
Snaptube is the best app to save Instagram photos and videos. It is 100% free to use as the app does not have any premium plan for the users to purchase.
The app is safe to use for downloading Instagram photos on your device. There is no fear of malware or spyware getting downloaded with the photos as it is certified by the most trusted security agencies.
Thanks to its batch download feature, you can save multiple photos at once without wasting your time. And the best part is you can download high-resolution Instagram photos from someone's feed and story.
Download
How to use the Snaptube Instagram image downloader?
Snaptube app is currently available for Android devices. In order to install the app on your phone, you have to enable the Install Apps from Unknown Devices option. You need to go to the Settings app and find the option under Security or Security & Privacy.
Here are the simple steps to install and use Snaptube Instagram picture downloader.
Step 1: Download and Install
Download Snaptube Instagram photo downloader APK file from the official site or your application store (only for Huawei, Vivo and Mi devices)
Allow all the permissions the app requires to function properly.
Step 2: Locate Instagram Photos
After installation, launch the Snaptube app and tap on the Instagram icon located in the top bar. Log into your Instagram account and scroll through the feed. Decide which Instagram photo you want to download.
Step 3: Go For Instagram Pic Download
Tap on the Download button to save the Instagram photo on your phone gallery. Wait for the photo to get downloaded in the same resolution as the photo. You can view the photo directly from the Snaptube library.
If there are multiple pictures in the post, you can choose to download all of them or just individual images.
Complete review of Snaptube IG photo downloader
There are several Instagram photo saver apps available through which you can download any desired Instagram photo. However, the Snaptube app is a clear winner not only because it is completely free, but it also has all the features that make it the perfect Instagram photo downloader app. Here is our complete review of the features of Snaptube.
1. Picture Sources
You can download someone's Instagram photo from the user's profile gallery without any limitation. In fact, you can even download the person's profile photo as well as photos from Story. Moreover, you can download your own collection of photos from your Instagram account.
Rating: 10/10
2. Picture Quality 
Snaptube is an HD Instagram photo downloader app. Hence, you can download photos at their available resolutions including high-quality and high-definition photos.
Rating: 10/10
3. Download Speed 
Snaptube offers superior download speed for photos. You can download photos in seconds, provided you have stable and high-speed internet.
Rating: 9/10
4. Download Success Rate
Snaptube has an extremely high download success rate, and we have found no unsuccessful download attempts by the app. However, if your internet connection is not stable, you can face rare failure in downloading HD photos.
Rating: 9.5/10
5. User Interface 
Snaptube has the most intuitive user interface among all Insta image download apps. You can download Instagram photos instantly in different ways by following simple steps. There is a very clear download button everywhere.
Rating: 10/10
6. App Security 
Security is the most concerning point for any app that lets you download media files. This is because malware and spyware can get downloaded in disguise, and the media files can get circulated in the public. Thankfully, Snaptube is certificated by leading security agencies as a trusted app where all security standards are perfectly followed.
Rating: 10/10
7. Batch Download 
Snaptube allows you to download multiple photos at the same time which is highly useful for downloading a collection of Instagram photos.
Rating: 10/10
8. Other Downloading Features
If you thought Snaptube can only be used to download pictures, it's too easy. In terms of the Instagram app, Snaptube allows you to download stories, reels, photos, audio and basically everything. In addition, Snaptune can also be used to download audio and video on Facebook, Twitter, Dailymotion and more.
Rating: 10/10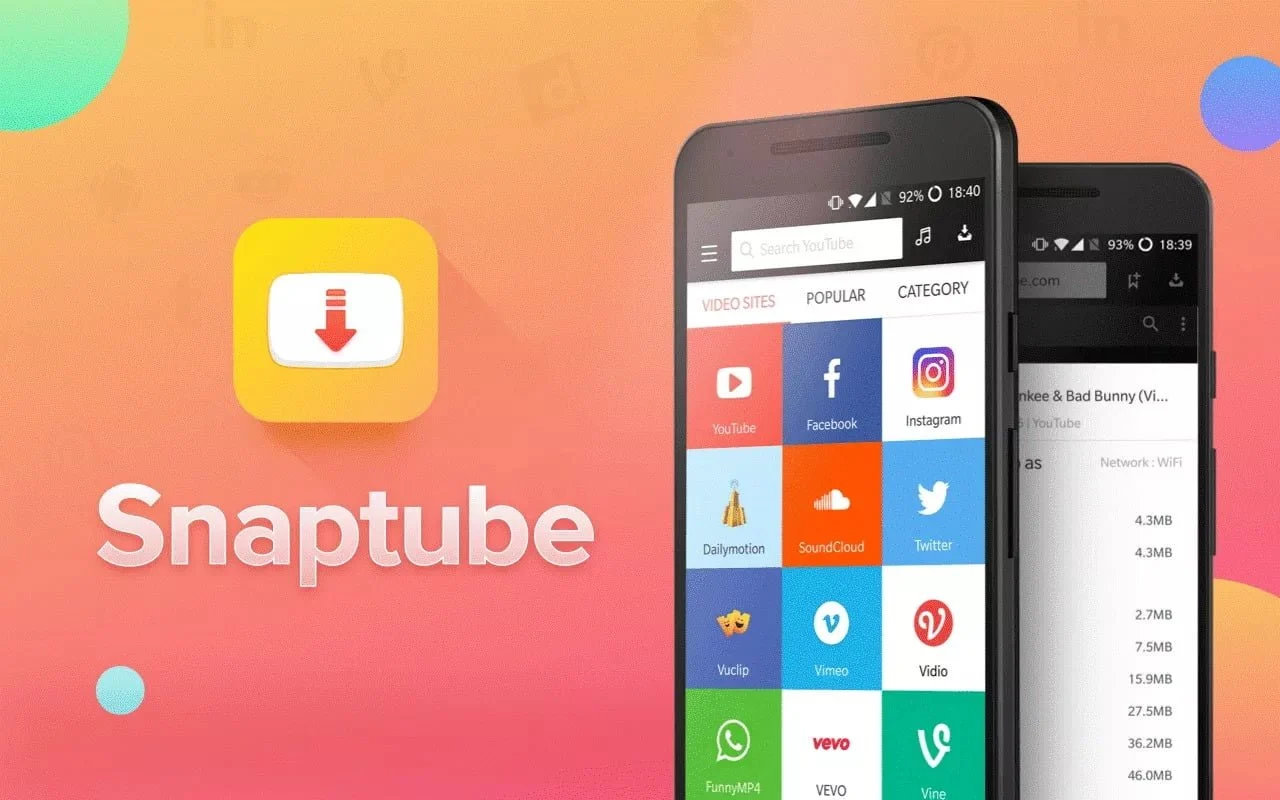 Snaptube is by far the best Instagram photo downloader and beyond. It is free to use, there is no watermark on the downloaded photos, it is extremely convenient and most importantly easy to use with a 1-click download operation. Download Snaptube and download as many Instagram photos as you want!
Some FAQs on the Snaptube app
Is Snaptube safe?
Snaptube is a completely safe app to download Instagram photos and videos. The app is certified by leading security agencies and you can rest assured that the photos and videos won't get circulated and you won't download any malware or spyware in the background.
Where can I get Snaptube?
Snaptube is not available on Play Stores. But you can download the app directly from its official website manually as well as scan the QR code. It is also available on Uptodown, Aptoide, AppGallery, and GetApps for Android users to install on their smartphones.
Does the Snaptube app have any premium plans?
No, Snaptube has no premium plan. It is 100% free and there is no limitation on any of its features to download Instagram photos.
updated by Chief Editor on 8月 19, 2022