Facebook Stories are in demand nowadays more than ever before. Stories created and used for entertaining viewers or to promote brands seem more appealing if they come with music.
While adding music to a story is not rocket science, Facebook story download with music certainly is!
We say so because numerous apps offer a Facebook Story download option, but most fail to download Facebook Stories with music.
But no worries! Here, we will tell you how to download Facebook story with music using a brilliant app. So, read the article to get your answers.
Snaptube Supports Facebook Story Download with Music
Snaptube app is an all-in-one third-party application that allows users to download Facebook story video with music. It is an app that is compatible with all Android devices, which is easy, free, and fun to use.
Download
Let us show you how to use the Snaptube app.
Step 1: Download the Snaptube App
Install Snaptube first on your Android phone. To download, hit the Download button below.
Step 2: Copy FB Story's Link
Open the Facebook app, then open the story video and copy the URL link of the story after hitting the Sharing icon at the bottom of the screen. If you are using the Facebook app on your browser, copy the URL of the Story from the address bar.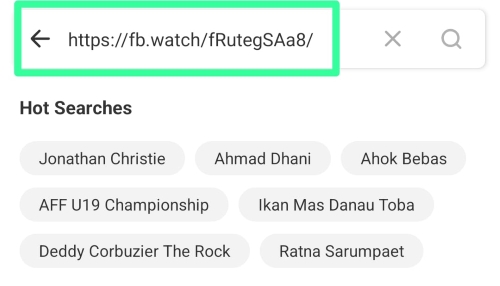 Step 3: Download FB Story with Music
Now, launch the Snaptube app, paste the copied link on the search bar and click Download. Snaptube will ask you to choose the preferred video or audo format.
If you want to download Facebook story video with music, select the video format and resolution.
If you only need the audio file, i.e. extract the audio from the story video, choose the m4a format.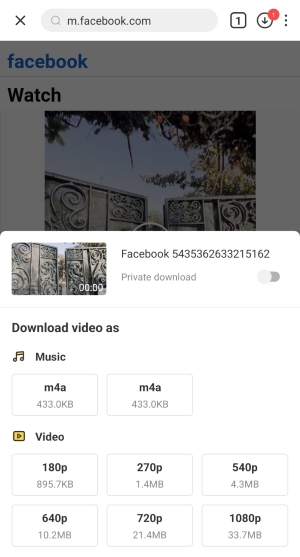 Using this app to save Facebook Story is easy as a pie; however, not falling in love with Snaptube's outstanding features is not. So, let us shed light on a few of Snaptube's Facebook content downloading features.
Snaptube is directly integrated with the Facebook app. Users do not have to leave one app to switch to another app.
Users can watch and download as many videos as they like without any restrictions on the number of downloads or watch time.
Besides supporting direct download of videos with music, Snaptube also supports downloading only music files from any video by opting to save video files in MP3.
It offers the choice to download videos, Stories, and reels in a variety of sizes, resolutions, and formats.
Snaptube also comes with the My Files folder using which users can access, manage, create playlists, listen, watch, share, and delete downloaded audio/video files.
What Can You Do with The Downloaded Music File
If you think the Snaptube app is just like other online video downloading websites, you are still a stranger to the many other features of the Snaptube app.
Snaptube does not only allows users to download videos and music. However, it also offers users file management, which includes the following opportunities:
Directly Share the Downloaded Music with Friends
The app allows users to share the downloaded audio/video music file with friends and family using the Share option. You can share by link or bluetooth.
Upload It to Other Social Platforms
Most of us strive to find the perfect content to become the king of daily uploads. Snaptube's users can easily download and forward music files on other social media platforms and become legends.
Set It as A Ringtone
Unique ringtones and caller IDs are everyone's demand. With Snaptube, users can set any downloaded music as a ringtone on their mobile.
Change the Format
Even after downloading the music files to their respective devices, Snaptube users can change the file format afterwards.
Play it Offline
Every one of us suffers from a bad internet connection. Snaptube allows users to listen to music offline, in the background, even with the screen off.
To Sum Up
After learning how to save Facebook story with music, you must have realized how easy it is when we use the Snaptube app for the task.
Snaptube app is best for FB story downloads with music because it is free, straightforward, and offers quality downloads.
Using Snaptube, you can also download public and private videos and reels from Facebook and save them to view offline or to share on another platform.
So, what are you waiting for? Navigate to Snaptube's official website, download the app, and enjoy the free and unlimited video and music downloads.
How Long Is Music in The Facebook Story?
Music in the Facebook Story can be about 15-30 seconds long, depending on the type of music Story you are creating. If you are adding music to a Story from Facebook's music library, you will get only 15 seconds of music by default due to copyrights.
Is Facebook Audio Library Copyright Free?
Yes, the collection that Facebook audio library offer is copyright free. You can download music and sound effects from the Facebook Sound Collection to use in the production of your videos and post these videos on Facebook or Instagram without worrying about violating anyone's copyright.
updated by Chief Editor on 10月 14, 2022