Undoubtedly, Facebook is much more entertaining now that it supports short videos. These short videos or eels, often lasting no more than 30 seconds each, have significantly increased user engagement with the app.
If the Facebook short video downloader has driven you crazy with its constant pop-ups and page reloads, you've come to the correct spot to find an alternative. We are, of course, discussing the most up-to-date version of Snaptube app, which has simplified downloading videos. Curious as to how it operates?
OK, let's jump right in!
How to Download Facebook Short Videos With Snaptube?
When it comes to free, high-quality Facebook shorts download on Android, Snaptube is without a peer. It's free to download and works with all Android phones.
The interface is modern and straightforward, and it supports various video-sharing services. As a result, you can search for a video across many services without leaving this page.
Download
You can get Facebook reels and short video downloads in two ways, whatever you find suitable according to your needs on Snaptube. But first of all, you'll need to get the Snaptube app for your Android smartphone. To complete this, simply tap on the Download button below.
Download FB Short Videos By Link
Snaptube makes downloading videos from Facebook simple after the app has been downloaded.
Step 1: Copy the video's URL to the clipboard by visiting the Facebook app. You can now open Snaptube and paste the copied URL into the app's search box to save the video.
Step 2: Download the file by tapping the corresponding icon and choose whatever format (and quality) you wish to use to save the short video.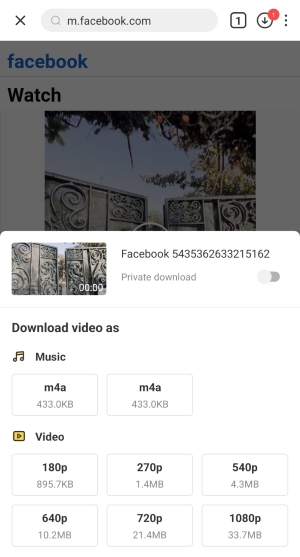 After following all the above steps, your short video will save the video to your phone's local storage so you can watch it anytime you want without an internet connection.
Download Directly from Snaptube Application
To download a short video from Facebook directly, you need to follow the above three steps and then follow the below steps in the Facebook short video download app.
Step 1: Use the Snaptube app whenever you want to view or download a video. The homepage provides a directory of available platforms for your perusal. To find high-definition videos from Facebook, tap on the Facebook icon.
Step 2: To download Facebook short video, login to your account in advance. After successfully entering your account, explore your timeline to find the short videos.Not only short videos, movies, music videos, comedic videos, whole episodes of TV series, and much more are all downloadable.
Step 3: Now, just click the download icon next to the video's thumbnail to start the download process immediately.
Some Unique Features Of Snaptube Facebook Short Video Downloader
Snaptube's UI provides access to many platforms without requiring you to leave the app. Soundcloud, Facebook, Instagram, Dailymotion, TikTok, etc., are just a few of the many websites included in this list.
Searching for certain songs requires either typing in keywords or giving a link to a website where you can download them in MP4 or MP3 format.
Snaptube's media player lets you choose between MP4 and MP3 as the download format after loading the video.
Snaptube's media player will allow you to download the clip in MP4 or MP3 format after the movie has been loaded.
Additionally, you can tailor your download by choosing an optimal or HD bit rate and video quality. A range of MP3 bit rates starts from 70kbps to 320kbps, while MP4 video resolutions from 360p to HD are available.
You can use the in-app player while online and off.
Some FAQs
Can it download a live Facebook video?
You can download a live Facebook video by copying and pasting a link on the Snaptube application. 
How many videos can I download at a time?
Depending on your internet connection, you can download as many videos as you like.  

Is there an iPhone version of Snaptube?
The Snaptube application is only available on Android operating systems. For iPhone, we recommend you using online Facebook downloader.
What else can it download other than short videos?
With Snaptube, you can also download images, Facebook reels, live videos, and other contents from Facebook.
What Now?
Are you tired of your Facebook short video downloader with unlimited ads and premium plans? No Worries!
With Snaptube, you can get unlimited access to short video downloading. The application has also enabled fast-speed downloading, multiple formats and high-resolution video downloading.
updated by Chief Editor on 10月 14, 2022