It's entertaining to go around Facebook until you realize you have to download your favorite video on your mobile device. We get that saving a video makes it easier to recall details years later. However, this is no longer possible because of Facebook's no-downloading policy.
Next Steps?
It may be something you've never heard of before, but you can now get your hands on the videos of your choice in a matter of seconds. What? Suddenly? The same as me! Facebook link video download has now become as easy as 1 2 3. I know what you're thinking how.
Snaptube makes it easy to grab videos from Facebook. You probably have concerns regarding how to Facebook video download by link. Let me lead you through the process.
Facebook Video Download By Link Through Snaptube
If you possess an Android smartphone, Snaptube is the most excellent Facebook link downloader app. This APK doesn't need subscription or registration.
It makes easy for Android users to get videos directly from mobile websites. The program is intuitive and valuable since it allows you to download MP4 and MP3 versions of a video after following a link.
Download
Put it simply, the app for downloading videos from the URL is simple and safe to use. Let's learn how to use Snaptube to download from Facebook link.
Step 1: Install the Snaptube APK
To begin, you need to install the FB video downloader apk – Snaptube. Hit on the download button below to start downloading it.
NOTE: If you have trouble installing the Snaptube app, allow the installation of apps from unknown sources before continuing. The Settings menu > Security submenu will get you there.
Step 2: Copy and paste the FB video URL here
Since you want Facebook video download by link, you must visit the FB app or website where you can find and copy the video link.
Next, launch Snaptube and paste the URL on the search bar, then load the video.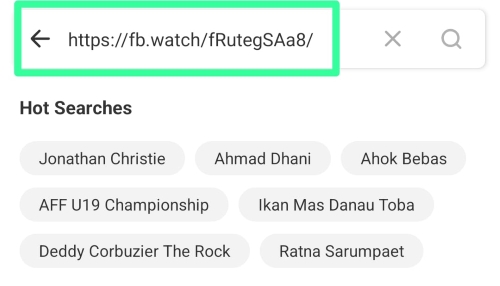 Step 3: Choose the video format and resolution
Once it load, click on the yellow download button and choose the format (like MP4 or MP3). The video may be downloaded to your phone in various resolutions to suit your needs.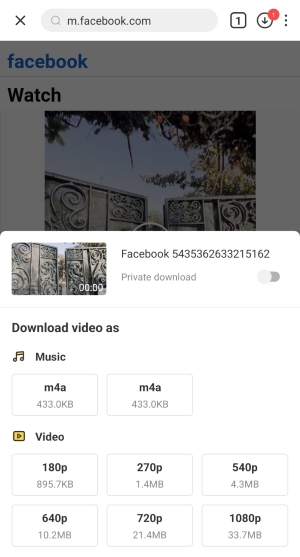 You can then view the video without an internet connection using the phone's Video/Gallery app, or the Snaptube's built-in player.
Snaptube has made it easy to download Facebook videos by URL within a matter of seconds. The fast and reliable application has provided access to other platforms as well. Moreover, its free and unlimited feature has made it top-notch. So, what do you think now? Download Snaptube, and watch your Facebook video without any internet. 
Is Snaptube free for Facebook link video download? 

Snaptube is 100% free for the Facebook video download. Here, you can download the videos in High-quality and fast speed.
How to copy the Facebook video link to download?
To copy the Facebook video link, click on the video's share icon and tap on the Copy Link option.
How many times can we download a video from Snaptube?
There is no limit on the number of downloads from the Snaptube application. You can download as many videos from Facebook and other platforms as you like for free.
Does Snaptube allow HD video downloading?
Snaptube allows HD video downloads, depending on your preference. When downloading, it shows multiple options showing the resolutions it offers, from low-res 360p to high-res 1080p/2k/4k original quality.
6 Reasons Why Snaptube Is Ideal for Facebook Link Video Download
The proliferation of harmful and pointless applications has made it difficult to choose a reliable app for Facebook link to video download. While many promise HD resolution, an offline saving option, and other features, you get spam messages and intrusive commercials.
Snaptube is much better than those platforms, it supports:
1. Online video-capture links
If you want to save a video from a website and watch it offline, you can copy the URL and paste it into Snaptube. The app's UI for downloading videos from links would immediately play the video.
2. Several Download Formats Available
Snaptube allows you to download videos in several formats, including MP3 and MP4. You can save the video in various formats, including 720p, 1080p, 2K, etc.
3. 100+ Streaming Platforms
In addition to the Facebook link to MP4 and MP3 download, this app provides access to many supported operating systems for a video downloader APK. Snaptube already has a catalog of popular applications like Facebook, Instagram, Pinterest, WhatsApp, etc.
4. Affordability without limits
Snaptube allows you to download videos for free by clicking on the video link. The tool that allows you to download videos from links is without cost and limits on how often you may do it.
5. Secure and Malware Free
The Snaptube app has the best algorithm for all the concerned security people. It is a secure platform retaining the user's privacy by keeping their IP address private. As a result, the incidences of malware also reduce.
6. Batch Download Supported
The Snaptube application let you download any video all at once. As a result, you can download multiple video only in a short period of time.
updated by on Oct 15, 2022