Facebook has added a reel function, making the platform more engaging, informative, and fun for its users. It's a brand-new way to have your 60-second video seen by your Facebook friends and followers. Its is a fresh, innovative, and entertaining approach to sharing your thoughts with the world.
You can also use your unique music or select a tune from one of your favorite artists. Quite interesting, huh? Putting everything else aside, you can't save the reels directly on Facebook. But, do not panic, as we have the solution for Facebook reels download.
So, how about we have a look at it?
The Best Free Facebook Reels Downloader 2022 – Snaptube
Facebook reels video download has become easy through Snaptube. The app allows downloading videos, music audio, pictures, stories and more from leading video sharing platforms.
Not only this, Snaptube is 100% free and secure for all its users. To be more specific, here's the main features available in the app.
Download
How to Download Facebook Reels Using Snaptube?
You might think that downloading Facebook reels from the Snaptube application might be a hassle. But, the good news is: it is not.
Snaptube is easy to use as a Facebook reels video downloader since it allows fast download, easy access, and no registration or login. All you need to do is to download the application and follow the guidelines listed below.
Step 1: Download The Application
To download Facebook reels video, click on the red button below to get Snaptube first. Then, open the APK by dragging it down to the bottom of the notification bar. Doing so will launch Snaptube's setup procedure.
If you're having difficulties downloading the APK, try enabling 'Unknown Apps Download' in your device's settings. Doing so would let you get Snaptube onto your device. 
Step 2: Copy The Reel Video Link From Facebook:
Now, time for the Facebook reels video download by link!
Go to your FB application and search for your favorite reel or your saved reels within the app. After that, click on the share icon; there, you will see the copy link option; click on that.
Step 3: Open The Snaptube Application and Paste The Link
The best thing about the Snaptube application is its no-registration policy. After downloading the application, you can access all its features without signing up. Easy?
Paste the link that you've copied just now on the search bar on the app, then hit "Enter".
Step 4: Facebook Reels Download Is Ready!
Your desired reel will appear on the feed within a few seconds. Click on the download icon below the video and choose the formats, Mp3 or Mp4.
Moreover, you can also choose the resolution of your reel video. Depending on your internet stability, downloading Facebook reels is only a matter of seconds.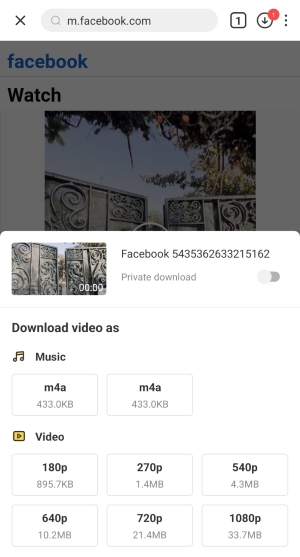 With the latest trend in Facebook reels, why are you staying behind? Now, the Facebook reels download is no more an arduous process. You can get your reel in a few seconds from the Snaptube application.
Also, the application is 100% free and secure for all its users. Time to get those saved reels downloaded on your phone!
Where are downloaded Reels saved?
When downloading from Snaptube, all the downloaded reels will automatically get saved on your phone's gallery and the Snaptube application. You can access them from both locations.
Full Features of This Facebook Reels Download App
HD Video Downloads
When it comes to the quality of video while downloading, Snaptube conquers all. The application has enabled the videos to be downloaded in HD quality. Moreover, The in-built video player allows you to play the downloaded videos within the application. This also means that Facebook reels video download in gallery is extremely easy!
MP4/MP3 Downloads
Gone are the days of being constrained to a single format within a downloader. With Snaptube, you can now save Facebook reels both as mp3 or mp4. Only in Snaptube, you can find the option of both formats with the resolution of your choice. Perks?
100% Free Forever
Unlike many other Facebook reels downloaders, Snaptube offers unlimited and free downloads with no restrictions. Where else can you find a platform to download unlimited reels from the application without worrying about charges, fees, and time for bulk downloading?
Secure From Malware And Viruses
We understand that your phones are sensitive to malware and virus, which is why Snaptube application is free from any malware that could harm your device. This way, you can download Facebook reels without any worries.
High Download Speed
There are no lags or bugs in Snaptube, making it a faster downloader than other Facebook reel download apps. So, if your internet speed is good, you can get your reel in a few seconds.
updated by Chief Editor on 10月 14, 2022