"How can I download audio from Facebook video?"
If you are here because of a similar reason, then you are at the right place.
As Facebook users, we sometimes want to get the audio of a Facebook video because music is a powerful ingredient in videos that changes the mood.
As a result, an app called Snaptube has been created specifically for you to bypass Facebook's restrictions. Don't leave! Read on to learn how to use Snaptube to free download audio from a Facebook video.
Introducing the Snaptube's FB Video Audio Downloader
Most Facebook users want offline access to the audio versions of Facebook videos found in reels, live, stories, groups, and other places. You can have that access with the help of Snaptube, the best FB audio downloader.
Snaptube locates, downloads, and converts Facebook videos to audio in multiple formats using its smart search engine and built-in features. Besides, it is entirely cost-free.
Download
The application also integrates some social media platforms that you will be familiar with, like Instagram, SoundCloud, Vevo, WhatsApp, and many more. The good news is that you can access all these supported platforms for free on Snaptube.
How to use Snaptube to download FB audio
With Snaptube you won't encounter any difficulty with Facebook audio download. Now, let's look at how we can use the app to easily and freely download Facebook videos and audio.
1. Get the Snaptube application on your Android phone
Begin by downloading the Snaptube apk on your phone. Snaptube can be downloaded from its official websites or your mobile phone's default app store, like Huawei AppgGllery or Xiaomi GetApps.
2. Launch the app and search for the Facebook video
Snaptube has been meticulously designed to download music quickly and easily. You can copy the Facebook video link and use Snaptube's expertly crafted search bar to locate it.
Open the Facebook app and conduct a search for the video you wish to download. When you've found the video, click the share button which is located beneath the video. Tap on the copy button that appears once you have clicked the share button.
Once you have copied the link, minimize the Facebook app and go back to Snaptube. On the Snaptube app, paste the video link in the search bar and search for the Facebook video by clicking the search icon. On clicking this icon, results will pop up in a few seconds.
3. Download the Facebook video as music
When you've found the video you want to save, click the download button directly under the video. When you click this button, a drop-down menu with various video and audio formats appears. Choose your preferred audio format to save the video as audio.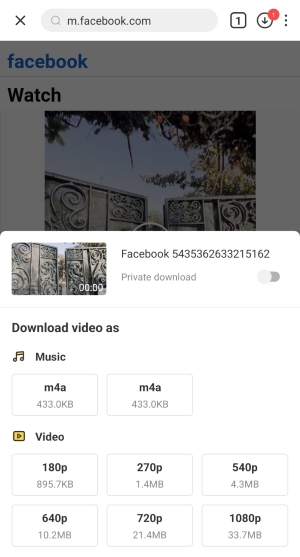 That's it! By simply following these few steps, you'll be able to download any Facebook video as high-quality audio for free!
Features and benefits of Snaptube
Snaptube is flawlessly designed to provide users with free offline access to photos, music, and videos. It has numerous features and benefits that provide an excellent user experience.
100% free
Snaptube is completely free to download and use. There are no in-app purchases, so you can enjoy all of its incredible features without spending a dime.
Multiple file format compatibility
A number of file audio and video formats are supported by Snaptube. Each file format has its size, so you can choose one that works well with your device.
Built-in player
Not every music downloader includes a customized player. However, Snaptube has a built-in player called Lark player that provides a wonderful experience when you use the app to listen to music and watch videos.
Batch download
You can download several audio and video files in a single batch with Snaptube.
Massive library of songs and videos
Snaptube has a large song library, making it simple to find and download audio from messenger or Facebook.
One of the best Facebook audio downloaders is Snaptube, which provides unrestricted free downloads at blazing speeds. It is a very reliable app that has over three hundred million users and fifteen million likes.
Don't waste your time searching for a Facebook audio downloader because no application or web browser can do a better job than Snaptube!
updated by Chief Editor on 10月 17, 2022